• HOLLYWOOD NERD NIGHT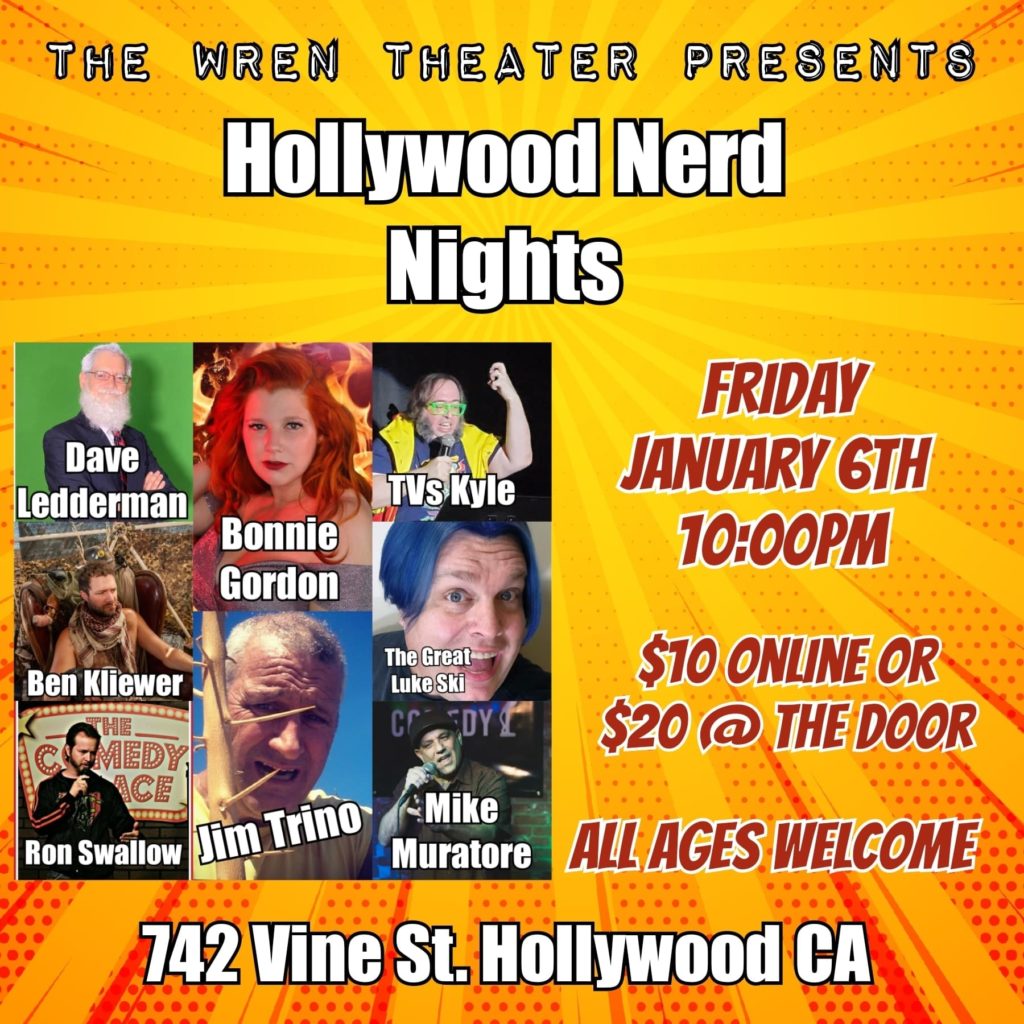 January 6th, 2023 - 10:00 pm
The Wren Theater, 724 Vine St., Hollywood, CA
Tickets: $10 if bought in advance here:
https://www.eventbrite.com/e/hollywood-nerd-night-tickets-476907111007
Or $20 at the door. Ages 18 and up (the image text is wrong)
It's another night of geeky stand-up and nerdy comedy music sets by the great Luke Ski, TV's Kyle & Lindzilla featuring Il Neige, and the one and only Bonnie Gordon!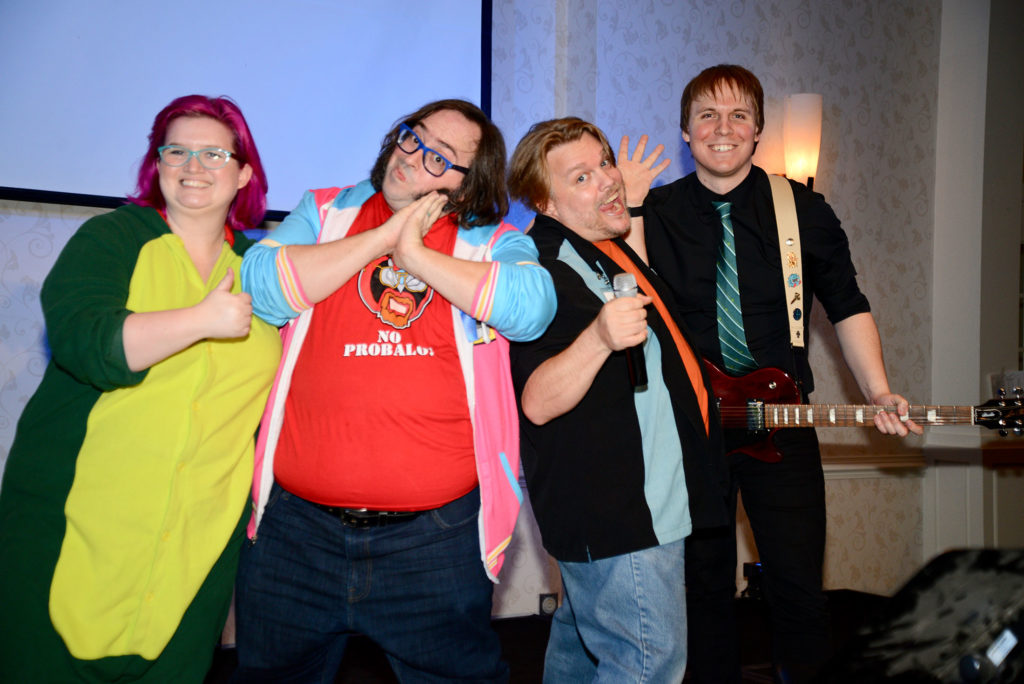 • MARSCON 2023
March 10th, 11th, & 12th, 2023
Hilton Minneapolis/St Paul Mall of America – Bloomington, MN
Comedy Music Track website: http://marsconcomedy.com
Main Convention website: https://marscon.org/2023/index.php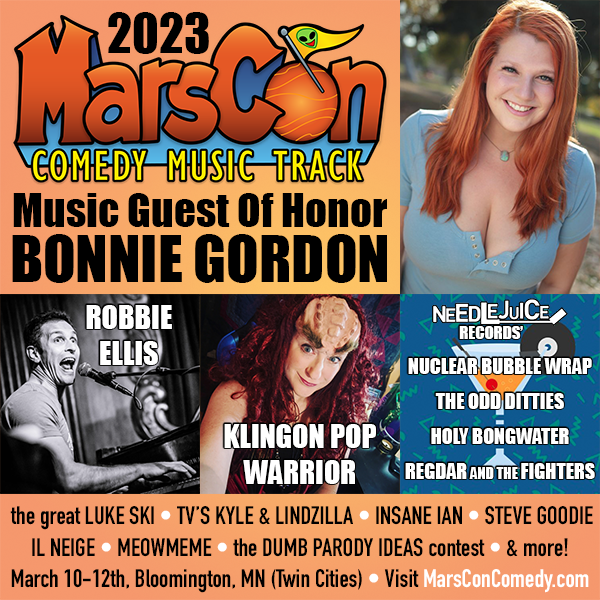 The world's longest-running fandom convention comedy music concert series is almost here again! Announcing the MARSCON 2023 COMEDY MUSIC TRACK!
MarsCon 2023 Music Guest of Honor: BONNIE GORDON
Performing at MarsCon for the first time:
ROBBIE ELLIS (our 2021 Virtual MarsCon Music Guest of Honor in person!)
KLINGON POP WARRIOR
From Needlejuice Records:
NUCLEAR BUBBLE WRAP
THE ODD DITTIES
HOLY BONGWATER
REGDAR AND THE FIGHTERS
And returning favorites:
THE GREAT LUKE SKI
TV'S KYLE & LINDZILLA
INSANE IAN
STEVE GOODIE
IL NEIGE
MEOWMEME
As well as these events:
– TABLE 27, selling CDs and merch by all our performers!
– THE SPACE ODDITY MUSIC CLUB & BREW PUB
hosted by Beth Kinderman, Dave Stagner & friends on the Room Party floor!
– THE "DUMB PARODY IDEAS" CONTEST!
– THE COMEDY MUSIC SMACKDOWN CONCERT
closing out the weekend with all the remaining acts performing funny music covers!
Weekend Badges are $55 through January 31st, after that they will be $70 at the door.
Registration: https://marscon.org/2023/registration.php
Hotel Room Block details are at https://marscon.org/2023/hotel.php.
~~~
THE MARSCON 2023 COMEDY MUSIC TRACK FUND RAISER MP3 ALBUM!
Nearly 4 hours of live concert excerpts from MarsCon 2022, only $30!
Track list & purchase link: https://marsconcomedy.wordpress.com/shop
Past year's Fundraisers can also be purchased at
https://marsconcomedy.wordpress.com/pastfundraisers
Initial Goal: $1,200
1st Stretch Goal: an additional $666
2nd Stretch Goal: an additional $170
~~~~~
"TABLE 27" VOLUNTEERS WANTED!
If you would be willing to help our Jered Perez and his staff by manning the MarsCon Comedy Music Track merch table located just outside the open doors of the Main Stage room for some amount of time during the concerts on Friday Night, and/or Saturday afternoon, and/or Sunday afternoon, we'll give you a COMPED WEEKEND BADGE, saving you $55 (or $70)! If you are interested, please email thegreatlukeski@gmail.com as soon as possible. Thank you.
~~~
Thank you all for your support, and I hope to see all of you in the audience at MarsCon!
~ Luke Ski,
Chair of the MarsCon Comedy Music Track
---~~~---
If you're interested in booking me for your convention, please CONTACT ME.