"MY FAVORITE PART" CLIP-VIDEO BY LUKE SKI ON YOUTUBE!
In September 2008 I made love song inspired by my now-wife Sara based on a term of endearment she often said to me, "You're my favorite part." The song is a ballad in which a pop-culture junkie compares the woman he loves to all his favorite parts from TV shows and movies. In June 2012, I debuted a video I made to show when I perform this song live, comprised of clips from all the shows and films mentioned in the song, with a lot of others Sara and I love worked into it. This year on Sara's birthday, I decided to post this video to my YouTube page so the world can see my mushy nerdy tribute to the woman I love via the shows I love almost as much as her. So here it is, "My Favorite Part". Share it with someone you love online.
Video link: http://www.youtube.com/watch?v=_5H4zmhbWPE
CIRQUE DU SO WHAT? ALBUMS NOW AVAILABLE ON BANDCAMP!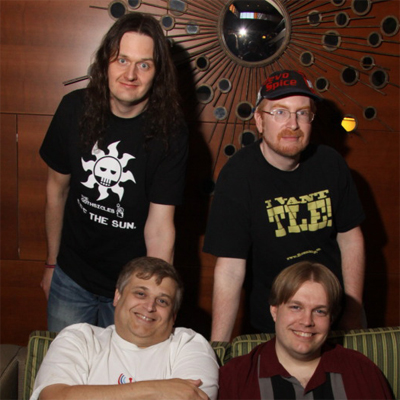 In other more explicit news, I finally got around to creating a Bandcamp page for "Cirque du So What?", the R-Rated sketch comedy group consisting of myself, Devo Spice, ShoEboX of Worm Quartet, and Chris Mezzolesta of Power Salad. So you can now hear all 3 of our albums in their entirety at http://cdsw.bandcamp.com . Our last 2 albums are still available on CD, and all 3 albums are available as digital downloads. So now when someone on your Facebook page posts an article about improv shows, race relations, or the bullying epidemic, you can now copy and paste links to those serious issue's correlating CdSW sketches. You're welcome, world.