LUKE & CARRIE'S BAD RAPPORT
Episode #102 – Overreacting Is Your Jam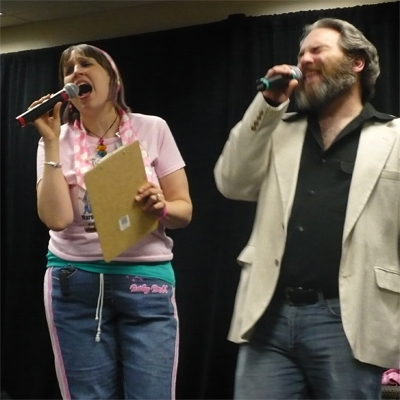 As much as I have been trying to stick with the new show format which would hopefully produce episodes that are about 90 minutes long with one third of that time being comedy music, some things just can't be covered quickly. One of those things is our annual coverage of MarsCon, which is our only topic of conversation in this almost 3-hour long episode. This year's MarsCon saw the return of Carrie Dahlby to the main stage for her own 30-minute concert, as well as Luke's first performances of "Fake Adult" and "Because Of Bob". Oh, and did we mention that Dr. Demento was there along with Meep Morp Studios, and that both Luke & Carrie were interviewed for the Dr. Demento documentary "Under The Smogberry Trees" which they are making? Yeah. That, and the whole rest of the weekend, was just incredible.
Among the MarsCon talk we have comedy tracks by Sparrow Folk, TV's Kyle featuring Insane Ian and Austin Aeschliman, Ylvis, Devo Spice, Tina Fey & The Muppets, Carrie Dahlby, T.J. Miller featuring Bo Burnham, Patton Oswalt, The Confabulation Of Gentry, and Power Salad. So get comfortable and prepare to have your earholes filled with Luke Ski & Carrie Dahlby's recap of the epicness that was MarsCon 2014. Episode length: 2:57:59
Listen, download, subscribe, leave COMMENTS @ http://badrapport.com
You can leave a VOICE MESSAGE for us by dialing (916)-LUKE-SKI
You can email us at badrapport@gmail.com
You can follow us on Twitter at http://twitter.com/badrapport
You can follow us on Facebook at: http://www.facebook.com/badrapport
RSS Feed: http://feeds.feedburner.com/LukeCarriesBadRapport
iTunes: http://itunes.apple.com/us/podcast/luke-carries-bad-rapport/id335287593
KYLE & LUKE TALK ABOUT TOONS
Episode #14 - Muppets From SPACESHIP!!!
This week, Kyle and Luke rave about "The Lego Movie" and "Muppets Most Wanted". We know that the latter isn't a cartoon. Try to cope. Also, Luke indirectly calls Kyle a douche and Kyle finds it really funny. Balsa Wood count: 2
Our website is http://www.kyleandluke.com , and please leave us
COMMENTS on our Facebook group: http://www.facebook.com/kyleandluke
Subscribe to our RSS feed at http://kyleandluke.libsyn.com/rss iTunes
https://itunes.apple.com/us/podcast/kyle-luke-talk-about-toons/id725309162?i=169130669
Devo Spice and Luke Ski interview the artists who posted songs at the FuMP dot com over the past week. Recent episodes include:
Episode #199: TV's Kyle, Insane Ian, Tony Goldmark, & Eclectic Lee
Episode #200: Bonecage and Mikey Mason
Webpage: http://www.thefump.com/podcast.php
RSS feed: http://feeds.feedburner.com/funnymusic
The FuMPcast is recorded live on Thursday nights at 9:00 pm CST on Dementia Radio. To listen live, just take whatever audio program you use to listen to streaming audio online (WinAmp, iTunes, Windows Media Player, RealPlayer, etc.) and have it play the following address: http://dementiaradio.org:8027 . If you need more help tuning in, visit the Dementia Radio website, http://dementiaradio.org . Dementia Radio can also be heard on Roku.