KYLE & LUKE TALK ABOUT TOONS
Episode #53 - Mr. Lawrence!


This week, Kyle, Luke, and sometimes Lindsay talk to special guest, Doug "Mr Lawrence" Lawrence! You might know him best as Plankton from Spongebob Squarepants or Filburt from Rocko's Modern Life, but we know him as the head writer of Mighty Magiswords. The song featured at the end is "Mister Lawrence" by The Nourishment. It's not about Doug, but it was too perfect not to play. You can get that song for free at http://www.jasonpolland.com/
Episode #54 - Royal Tannen Bomb


This week, Kyle and Luke talk about Back to the Future the Animated Series, Hotel Transylvania 2, The Muppets, and other things!
Time Mo-Chine #1: The First FuMPcast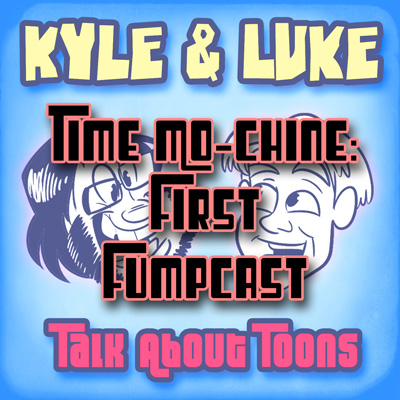 This week, Kyle and Luke are both too busy to do a real episode, so please enjoy this blast from the past! This is a clip from the first episode of thefump.com's own Funny Music Podcast. Kyle appeared on the show, making it, in some ways, the primordial version of this podcast!
Episode #55 - Shaman Babies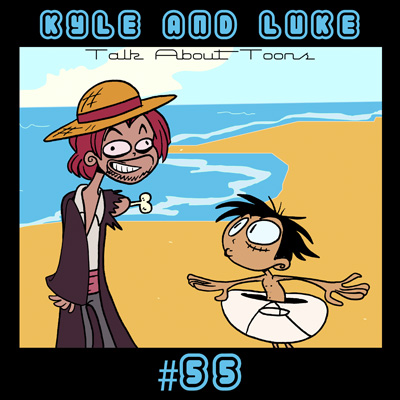 Kyle and Luke are joined by Lindsay Smith, Tia Ballard, and Miel Dragun as they hang around and talk about toons in a  manner that is both loosey and goosey. They discuss the Peanuts Movie, The Muppets, FoxBox/4Kids saturday mornings, and other stuff.
Episode #56 - Doc Knocker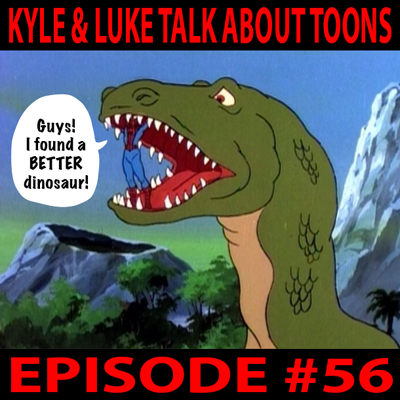 This week, Kyle, Luke, and temporarily Lindsay talk about The Good Dinosaur, Long Live the Royals, Ninja Turtles in space, Gravity Falls, and a strange Spider Man Training Video we recently saw.
Episode #57 - Snoopy Has Kooky Times The Movie


This week, Kyle, Luke, sometimes Lindsay, and also sometimes Luke's brother Mike Sienkowski (of the band Whatfor and drummer for Mike Krol) talk about the Peanuts Movie right after seeing it. Also, Luke has a talking "Completely Mental Misadventures of Ed Grimley" doll!
Episode #58 - Bad Decisions Theatre


This week, Kyle, Luke and sometimes Lindsay review the animated films of 2015 and pick their top 3! They do this every year!
Episode #59 - Lobster Decepticon


This week, Kyle, Luke, and Sometimes Lindsay sit outside of Portu-Cal Peri Peri and chat about life at Mighty Magiswords, the animated Oscar nominations, Transformers, and other things! It's even more freeform than usual this episode!
Our website is http://www.kyleandluke.com , and please leave us
COMMENTS on our Facebook group: http://www.facebook.com/kyleandluke
Subscribe to our RSS feed at http://kyleandluke.libsyn.com/rss iTunes
https://itunes.apple.com/us/podcast/kyle-luke-talk-about-toons/id725309162?i=169130669
THE FUNNY MUSIC PODCAST - LUKE SKI RETURNS AS CO-HOST!
Devo Spice and Luke Ski interview the artists who posted songs at the FuMP dot com over the past week. Recent episodes include:
Episode #287: Luke Ski (talking about "1,000 FuMPs") & Bonecage
Episode #292: Holy Bongwater & Power Salad
Webpage: http://www.thefump.com/podcast.php
RSS feed: http://feeds.feedburner.com/funnymusic
The FuMPcast is recorded live on Thursday nights at 9:00 pm CST on Dementia Radio. To listen live, just take whatever audio program you use to listen to streaming audio online (WinAmp, iTunes, Windows Media Player, RealPlayer, etc.) and have it play the following address: http://dementiaradio.org:8027 . If you need more help tuning in, visit the Dementia Radio website, http://dementiaradio.org . Dementia Radio can also be heard on Roku.