I was listening to the Nerdist Podcast Episode #131 "Greta's Calling!", when the hosts, Chris Hardwick, Matt Mira, and Jonah Ray, after mentioning  a joke that a friend of theirs Lee Farber made, began discussing the notion of "Dark Crystal" themed song parodies, hitting on one specific song idea. It inspired me to write and record and film a quick version of that idea and post it to YouTube, so here it is. As they say on Nerdist, "Enjoy your burrito!". 🙂
UPDATE - 10/11/2011 - Jonah tweeted about the "Skeksis Back" video, followed by Chris, who also posted about it on the Nerdist website, calling the video "SKEKTACULAR"! I am very happy that my mission was a success, and that the Nerdist guys and so many others all got such a kick out of it. Special thanks to Eric "Seamonkey" Tomme for graciously donating the music, and to Sara Trice for puppetry assistance. NerdWin! 😀
UPDATE - 10/18/2011 - You can now download an MP3 of the song "Skeksis Back" for free at the FuMP dot com!
And as long as I'm updating, I'll mention these: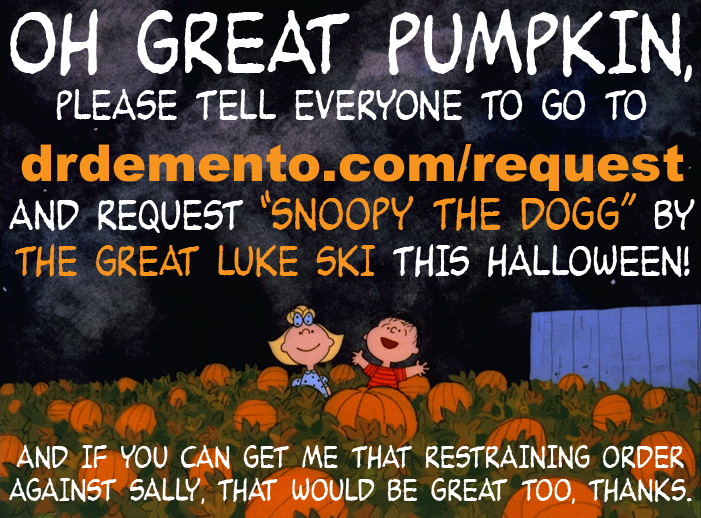 PLEASE REQUEST "SNOOPY THE DOGG" FOR THE DR. DEMENTO SHOW!
"Snoopy The Dogg" crawled out of the dog house and managed to sneak onto the Top Ten for September 2011 at #10! According to the unofficial Fan Tallies, it's still the #1 song of the year, but it's tied with another song which has been the #1 song on the Top Ten for 3 months in a row. Between that and the other great songs by my colleagues, I fear I'm going to fall out of the top spot! Will October's coming of the Great Pumpkin save me? I don't know, but you sure can help me stay on top of the countdown by requesting for "The Dr. Demento Show" to play my song "Snoopy The Dogg" again at his site's request page: http://drdemento.com/request . And hey, with Halloween just around the corner, what better time is there to tune into the show and listen to some spooky tunes and scary melodies! You can do so at http://drdemento.com/online.html . It's still the best show ever!
It's also definitely worth noting that my Monty Python tribute song "WALKINGSILLY" featuring Dan of Flat 29 also made the Top Ten this month, at #6! Funny, I thought there was NOOOOOOO #6! So thank you to all of you who requested that one as well, it looks like I'll have at least 2 tracks on the Funny 25 this year. People will have to start calling me Luke "Two Tracks" Sienkowski.
THE "LUKE SKI TOP 50 POLL" FOR 2011 - RESULTS ARE IN!

Some things stayed the same, but there were also some surprising new changes to the Luke Ski Top 50 poll. The results are now up at: http://www.thegreatlukeski.com/top50/ , as well as all of the songs & lyrics from "Be Amused By Me" having been added to the Song Index with Lyrics page: http://www.thegreatlukeski.com/lyrics/ . Thank you to the at 49+ of you who all voted in the poll.
LUKE SKI NOMINATED FOR A LOGAN AWARD!
I am very honored to announce that my song "It's Good To Be The King" was nominated for Outstanding Parody Song of 2010 for the Logan Awards! The song, a parody of "Down With The King" by Run DMC with Pete Rock and CL Smooth, is about the career of Mel Brooks, covering all 13 of his films, and makes note of his work on comedy albums, TV, and Broadway. It has guest vocalists Devo Spice, Insane Ian, and Jared Ringold of Possible Oscar, who also did the music for the track. It was #1 on Dr. Demento's Top Ten for November 2010, placing it at #19 on his year-end Funny 25 of 2010. Originally posted at the FuMP dot com, the track also appears on my new full length comedy music album, "Be Amused By Me". The winners will be announced this Saturday at the 1st Annual Logan Whitehurst Memorial Awards for Excellence in Comedy Music at Con on the Cob in Hudson, Ohio. To find out the rest of the nominees in all categories, visit http://www.loganawards.com.

LUKE SKI INTERVIEWED ON "TALES FROM THE CON FLOOR"
While at ConCeption a couple weeks ago, I was interviewed for a new podcast called "Tales from the Con Floor", a podcast dedicated to documenting the convention experience. My episode was posted recently, so you can go give it a listen at http://talesfromtheconfloor.com/2011/09/24/live-from-concentric-the-great-luke-ski/
NERDPOW! 2011
http://www.nerdpow.com
Hyatt Regency Columbus - Columbus, OH
October 28th - 30th, 2011
I'm performing on Friday night at 7:00 pm, and I'll have a merch table there for the duration of the event. Also performing there will be Dual Core, My Parent's Favorite Music, The Amazing Brando, MC Cool Whip, and more, as well as dances with awesome DJs spinning tunes, video game tournaments, costume contest, and lots of other fun stuff!
OTHER 2011 TOUR DATES INCLUDE:
CONTRAFLOW - http://www.contraflowscifi.org - Gretna, LA - Nov 4-6
WINDYCON 38 - http://www.windycon.org - Lombard, IL - Nov 11-13
See the Tour Dates page of LukeSki.com for details.