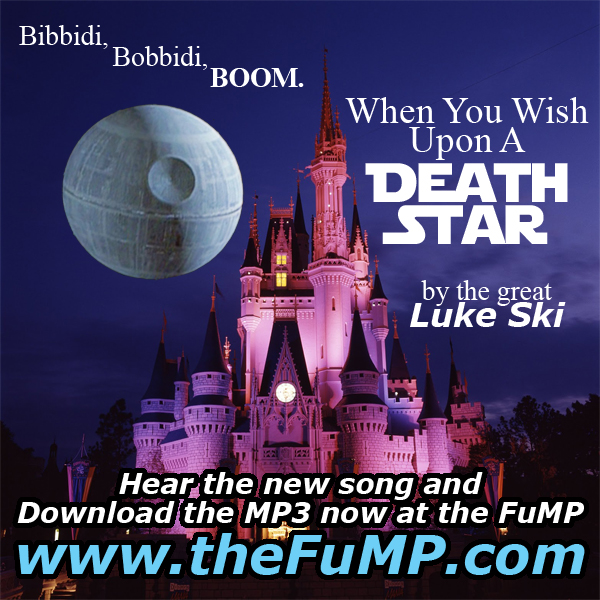 "WHEN YOU WISH UPON A DEATH STAR"
by the great Luke Ski
Available now for free download at http://www.thefump.com
In 2009 when it was announced that Disney bought Marvel, I quickly posted a song about it at the FuMP .com called "Marvel Poppins", which the fans really seemed to enjoy.
Three weeks ago when it was announced that Disney bought Lucasfilm, known primarily for the "Star Wars" franchise, within hours I was inundated with emails, texts, tweets, and Facebook messages from people demanding that I do a follow up song on this topic, including an email inquiry from Dr. Demento himself. And with that I said, "Hi ho, hi ho, it's off to work I go."
So, with the Star Wars franchise's history of making alterations to their films and re-releasing them into theaters, I present to you now a sneak preview of what to expect the next time you go to the cinema to see the saga again under it's new mouse-ear-hat-wearing, pixie-dust-laiden management. You're welcome.
Music by Supreme Chancellor Bob Emmet
Guest vocals by Princess Carrie Dahlby
and Prince Chris Mezzolesta of Power Salad
If you're interested in hearing any of my 11 previous "Star Wars" related songs, or my 4 previous "Disney" related songs, check out my Artist Page at the FuMP, or visit my website http://www.thegreatlukeski.com.
I hope you all like this song and will share it with your friends online. I hope this song becomes a hit and goes viral. After all, as the force dictates, if I keep on believing, the dream that I wish will come true. 😉
IN OTHER NEWS (added 12/3/2012)...
LUKE SKI CDs MAKE EXCELLENT HOLIDAY GIFTS FOR NERDY PEOPLE!
Here's some of the stuff currently available for sale at my website:
* "BE AMUSED BY ME"
My most recent full length comedy music album, featuring the Logan Award winning "Snoopy The Dogg", and fan favorites "Marvel Poppins", "It's Good To Be The King", and "It's A Fanboy Christmas 3"!
* "WHAT A RIPOFF! VOLUME 3"
A collection of non-album songs, sketches, spoken bits, outtakes and more, which includes "Skeksis Back", "The Star Wars Chanukah Song", "We Are The FuMP", "I'd Buy That For A Dollar", and "Luke, Are You Carrie?"
* "LUKE & CARRIE'S BAD RAPPORT: BEST OF 2011"
Highlights from Luke Ski & Carrie Dahlby's fortnightly podcast.
* "GREATEST HITS VOLUME 1: 1996-2003"
A 2-CD set of all my most popular tracks from my early career.
...and a bunch of other albums too. You can find them all in the Store. So whether they are for yourself or a gift for a loved one, either way, I get your money in exchange for goods. Yay consumerism! 😀
HIRE LUKE SKI TO DRAW CARICATURES FOR YOU THIS HOLIDAY SEASON!
This year there are 5 full weekends between Thanksgiving and Christmas, and yet, I only have 2 party gigs booked so far. So if you live in Illinois or a state touching it or Lake Michigan, then please consider hiring me to come out and draw at your holiday party! The details are here:http://www.artbylukeski.com/caricatures-for-parties-events/ I can also do caricatures or cartoon illustrations for you to use as gifts, cards, internet greetings, or whatever you like. Check outhttp://www.artbylukeski.com and contact me if you have any questions or would like to make arrangements for some artwork. Thanks.
At long last, I am ready to make some announcements regarding the Dementia Track at MarsCon 2013! This news is so exciting, that I'm not even going to type it out here in text. Instead, I'm going to give you links to a YouTube video of the announcement, and an MP3 version as well:
Video version: http://www.youtube.com/watch?v=hseUWi5yPyo
Audio version: http://tinyurl.com/MarsCon2013promo1
Those of you with radio shows, internet shows, podcasts, etc., please download the MP3 of the announcement and play it as a promo on your shows. It's 2:15 long, which for me is pretty dang short.
In any case, start getting excited people! MarsCon 2013 happens March 1st through 3rd at the Crown Plaza Hotel & Suites in Bloomington, MN. Go to http://www.marscon.com to register and for more information about this awesome sci-fi/fandom convention, and go to http://marscondementia.com for forthcoming updates on the MarsCon Dementia Track: the BEST WEEKEND EVER in COMEDY MUSIC!
"STEALING LIKE A HOBBIT" MUSIC VIDEO FINALLY ON YOUTUBE!
http://www.youtube.com/watch?v=sWHbX6kKu5s
You may not have heard about this, but "The Hobbit" hits movie theatres in 2 weeks! Well, part one of what is now a trilogy hits theatres on December 14th anyway. This seemed like the perfect excuse for me to get off of my old-media, outdated-business-model butt and finally post my music video for my most popular song of all time, "Stealing LIke A Hobbit" to YouTube. At the end, I added a plug for my new piece "When You Wish Upon A Death Star" at the FuMP, in the hopes to give that some more attention as well. So as you and your friends online get hyped for part one of "The Hobbit", please help get me some publicity by sharing "Stealing Like A Hobbit" with your friends on Facebook, Twitter, and anywhere else that nerdy web traffic is generated. Thanks, and enjoy your second breakfast!
DEMENTIA RADIO INDIE GOGO FUNDRAISER!
http://www.indiegogo.com/dementiaradio
The website for the 24-hour online streaming comedy music station "Dementia Radio" has long been in need of a major overhaul. Meanwhile, web programmer Devo Spice found himself suddenly unemployed and looking for freelance web work. So "Blasted Bill" Putt, founder of dementiaradio.org, decided to start a fund raiser that helps two entities at the same time! The purpose of this new Indie Gogo campaign is to raise the funds to pay Devo Spice to overhaul DementiaRadio.org! Some of the new features the updated website will have include: a database of all songs played with links to purchase those songs and request them for "The Dr. Demento Show" & the MMT20, ratings, keyword list sorting functions, pages for individual shows, staff, and DJ bios, integrated podcast pages, current song playing display, pirate cast button for DJs, a Dementia Radio App, and more! Their goal is to raise $4,300 by January 4th, 2013. So if you have the means to do so, please donate something so we can help Devo Spice and help Dementia Radio! And please spread the word to your comedy music loving friends online! 😀
VOTE FOR DEVO SPICE TO PERFORM AT iWORLD
Devo Spice is in the running to perform at MacWorld/iWorld, but he needs your help! Please go to http://www.devospice.com/vote and click on the button to vote for him! You can vote once per day. Details can be found at http://www.devospice.com .
LUKE SKI APPEARS ON "PROS AND CONS" PODCAST
Mikey Mason and Jonah Knight have a podcast where they talk about fandom conventions, the music of that culture, what it's like to be a person trying to make a living performing there. In Episode 9, they have a lengthy interview with me about my convention performing experiences, and play some of my songs. So check it out! http://prosandconspodcast.blogspot.com