"WHEN YOU WISH UPON A DEATH STAR" NOMINATED FOR A LOGAN AWARD FOR "OUTSTANDING PARODY SONG" OF 2012!
I am very proud to announce that my 'Disney buys Lucasfilm' medley piece "When You Wish Upon A Death Star" has been nominated for the Logan Award for Outstanding Parody Song of 2012! This is my third nomination in this category, and if I win it, I'll be the first act to win the award 2 years in a row. I am so honored to have been nominated again, and whether I win or not, the Logan Awards this year at MarsCon is going to be incredible, so don't miss it! To see the full list of nominees in all 3 categories, visit http://www.loganawards.com .
"WHEN YOU WISH UPON A DEATH STAR" #1 ON DR. DEMENTO'S TOP TEN FOR JANUARY 2013!
For the second Top Ten in a row, "When You Wish Upon A Death Star" was #1 on Dr. Demento's Top Ten! Thank you all so much to everyone who has been requesting it! Looks like I'll be on the Funny 25 of 2013 as well! ;D If you'd like to see "Death Star" continue to top the Top Ten next month, please REQUEST for "The Dr. Demento Show" to play it again at http://drdemento.com/request , and be sure to include your e-mail address so it counts towards the Top Ten tabulations! And as always, you can listen to the show every week at http://drdemento.com/online.html .
THE MARSCON 2013 DEMENTIA TRACK T-SHIRT IS HERE!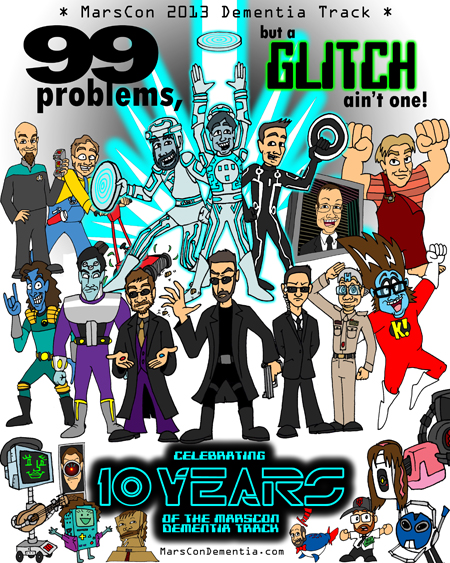 MarsCon 2013's theme is "Ctrl/Alt/Del... Thriving Into The Future!" So, I drew all the Dementia Track participants as computer-related characters from fandom and pop-culture and arranged them on a T-shirt commemorating the 10TH YEAR of the MarsCon Dementia Track. You can get the shirt from Dementia Radio's page at Spreadshirt: http://dementiaradio.spreadshirt.com . Remember, we will not have this t-shirt for sale at the convention itself, so if you want to have one to wear at the convention, you need to order it by about February 14th to ensure it gets shipped to your home in time.
Please note also that nobody (besides Spreadshirt) is making any money off of these shirts. They are not a part of the Dementia Track Fund Raiser, they are just being made because the fans wanted nifty shirts to wear. Special thanks to "Blasted Bill" Putt for setting up the shirts for us on the Dementia Radio Spreadshirt account. For a closer look at the individual drawings, visit http://marscondementia.com/performers .
CAPRICON 33 - Wheeling, IL (Chicago) - February 7-10
MARSCON 2013 - Bloomington, MN (Twin Cities) - March 1-3
OSFEST 6 - Omaha, NE - July 26-28
Go to the Tour Dates page for details.