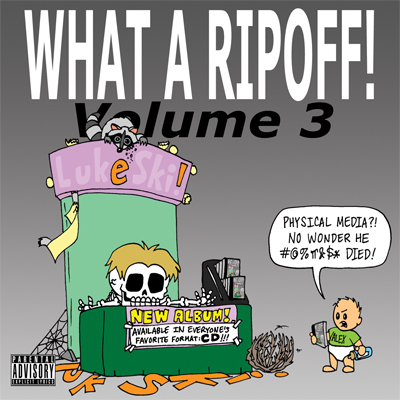 "What A Ripoff! Volume 3" continues in the tradition of Volumes 1 and 2, wherein Luke attempts to get his hands on more money from his fans so he can buy silly souveniers at Disney World. This album is made up of tracks Luke Ski has written and/or produced and/or recorded over the past few years that did not end up on "Be Amused By Me" or his previous few albums. It features appearances by Carrie Dahlby, Power Salad, Worm Quartet, Rob Balder, Scooter Picnic, and a track with almost everybody from the FuMP! There's also a parody of a Luke Ski song by Ridikulus, and Luke's contribution to the recent "Weird Al" tribute album! Plus more spoken word bits, sketches, commercials, narration, and "Explained Outtakes Part 3"! The album has been described as an 'album' by me just now.
--Includes the following tracks:--
MarsCon Dementia Track (2007 Version)
You Don't Know Jack Harkness – by Ridikulus
Fabulist! - by Carrie's BaldSki PowerBox
Flat 29 Choo Choo – featuring Carrie Dahbly
Jabba Jive – featuring Carrie Dahbly
We Are The FuMP – by the FuMP
Beavis and Butthead call the Scope
My Baby's In Love With Jon Bermuda
Skeksis Back
The Star Wars Chanukah Song
I'd Buy That For A Dollar – by Scooter Picnic, featuring Luke Ski
Tom Lehrer Sings Public Enemy
Luke, Are You Carrie? – featuring Carrie Dahbly
Explained Outtakes Part 3
(and an unlisted bonus track)
Total length - 1:18:54
To order the CD version w/ MP3 download, $14.00 plus shipping:
http://www.thegreatlukeski.com/products-page/?product_id=225
To order the MP3 version, $9.99 download:
http://www.thegreatlukeski.com/products-page/?product_id=231
Devo Spice has announced his plans to release a 2-CD "The Best Of Sudden Death" collection! You can get involved by donating to the project's Kickstarter here: http://www.kickstarter.com/projects/371528925/the-best-of-sudden-death . There's a lot of nifty prizes, and if nothing else, you can use it as a way to pre-order the 2-CD set now for it's retail price of $20. So please go check it out and support your favorite comedy rappers (and his new song at the FuMP "In The 80's" is awesome).
Speaking of awesome and humorous rappers, a recent episode of "The Dr. Demento Show" (#1233, Aug. 18th, 2012) is part 2 of Dr. Demento's spotlight on comedy hip-hop music. As well as many classic comedy rap tracks by well known comedians, he also upon my suggestion played a bunch of nerdcore hip-hop, including tracks by me, MC Lars, and his show's first ever plays of tracks by mc chris, MC Frontalot, and Schaffer The Darklord! It's a great episode, so please go check it out at http://drdemento.com/online.html .
Speaking of Dr. Demento, he was a guest on the Nerdist Podcast! Not only that, but Jonah Ray mentioned me at one point and he, Chris Hardwick, and Dr. Demento said some very nice things about me! 😀 This happens at 1:05:15 into the episode, but the entire episode is a great listen. You can hear it on the Nerdist Podcast feed, and at this page on their website: http://www.nerdist.com/2012/08/nerdist-podcast-dr-demento .
ATTENTION FANS OF "BAD RAPPORT": I want to compensate someone to do a chore for me, which is to scan through every episode of "Luke & Carrie's Bad Rapport" and make a list of all the songs we have ever played on the show. I used to have a list of these songs, but it was in one of my notebooks which was stolen last summer. If any of you is willing to do this for me, I'll compensate you with CDs or art or money or something. Just email me at thegreatlukeski@gmail.com and let me know.
In other news, GenCon Indy was a smashing success! I had 131 people at my Saturday night video concert, my set at the Costume Contest went great and even had video accompaniment, and our collective "Friday Night Live" concert had well over 322 people in attendance! I go into more detail on the weekend on this week's "Bad Rapport" podcast. Thanks so much to everyone at GenCon Indy who came out to the shows and supported myself and my fannish comedy music making compatriots! If you'd like to see a 45 minute video chat I did with the Damsels of Dorkington the week before GenCon, follow this link: http://www.youtube.com/watch?v=uJe7-5Icpgk.